NOTE: This is a repost of an essay that appeared on my old "PaBlog" back in May of 2008, and was my most commented upon posting ever. My opinions have not changed in the intervening six years.
After re-reading portions of Rumpled Trenchcoats and Rubber Bullets while preparing this latest round of queries, I felt the need to revisit one of the most famous novels of modern time, J.D. Salinger's The Catcher In The Rye. I didn't like it when I read it before, but I decided to keep an open mind as I read it for the second time.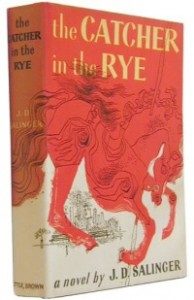 I still don't like it.
There are those who will say that Catcher is a classic. I will not dispute that. However, Childe Harold is also a classic. Lord Randal is a classic. Everyman is a classic. That does not mean that they are good. What they are, which is what makes them classics, is that they reflect the time in which they were written, took revolutionary (or, in some cases, evolutionary) jumps in style or form, and greatly influenced works that came after them. None of them, however, stand up well against the passage of time.
Sadly, a lot of what makes Catcher unbearable are the things that made it revolutionary and innovative 57 years ago:
Holden, the antihero: Antiheroes as protagonists were not as common prior to Catcher as they have been since. Holden is not heroic. He isn't even likable. He's annoying, petty, depressing (appropriately enough, as he's depressed), and borders on stupid. It was the presence of such a well-crafted character with no redeeming characteristics that swept through the literary (and popular culture) world like a sirocco wind blowing in warm, fresh air. Today, however, this type of character has been done to death. Salinger didn't invent the antihero (that honor goes to Apollonius of Rhodes), he perfected it. Doing so, however, invited an onslaught of imitators who through their copying diminished the original.
The prose style: Let's face it, Catcher really is the quintessential first-person narrative in the style of an extended dramatic monologue. Salinger really is unparalleled as a writer when it comes to an ear for dialect and creating a believable voice for a character, except perhaps for Mark Twain. However, the narration of Catcher, like that of his rival for the dialogue crown in Huckleberry Finn, does not age well. It is too grounded in the 1940′s and early 50′s. Popular slang has drifted over the past half century, and those not familiar with a lot of the terms used by Holden will get lost easily. Also, Holden tends to ramble. This is understandable when you consider his other character traits, but Holden is not someone you go to for clear, concise, narration.
That fucking ending: I hate it when stories don't end, but just stop. Catcher is the worst offender in this case. True, there's the epilogue, but there's so much time that's passed between the carousel scene and the epilogue that one can't help but feel cheated. There's a lot of story chopped out of there, which I would like to see. What happened when Holden finally revealed himself to his parents? Why is he in California? Is he institutionalized? Is he insane? If Salinger had left out the last chapter, it would have been a better ending, but it's still too abrupt, and doesn't tie up any of the story. The epilogue, to me, reads like something an editor forced the author to write to answer some questions he or she still had.
Books in the 1940′s had happy endings, or they had sad endings. Catcher has no ending, which was innovative back then, but today is just grating.
The plot: Or, should I say, the lack of one. Catcher seems to be following the Campbellian model at first, but its hero never leaves the Underworld, is never transformed, and never returns with a boon for mankind. Holden has no goal, no desires, essentially no character arc. His misadventures in Manhattan do not destroy the boy that was to make room for the man that will be, they just bump him around and kick him when he is down. Holden never learns from his mistakes. He doesn't even acknowledge that they are mistakes. The Holden we have at the end of the last sentence is the same exact boy we meet at the beginning of the first sentence. I liken this to watching a man continually getting shat upon by a large bird, who keeps wiping the offal from his face, but never thinks to change his seat or chase the bird away. This may be funny to sadists, or Tom Green fans, but it is not enjoyable for me.
And this brings me to my biggest gripe:
Holden does nothing.
Holden spends the entire length of the story walking around, with no needs and no desires. Maybe Salinger was drawing inspiration from the Lost Generation that followed World War I, and anticipating the self-absorbed Baby Boomers that were being born as he was writing the story, but surely that's no excuse for telling us a story that is no story.
Take a look at some of the characters from more modern works that owe their existence to Holden. Tom Henderson from King Dork has goals: get to know some mystery girl, get to understand his dead father, and make it through high school. Dennis Cooverman from I Love You, Beth Cooper may be carried along by the unyielding stream of circumstance, but at least he stands up and takes matters in his own hands from time to time. DeeDee Truitt from The Opposite Of Sex wants to scam a family member. The refusenik kids of Like We Care actively rebel against popular culture by not buying anything. Holden walks around muttering to himself. The kid can't even get laid by a prostitute for pete's sake. Honestly, if Holden had mentioned thinking about calling Jane Gallagher one more time, I would have screamed "JUST PICK UP A PAY PHONE AND CALL HER, YOU DICK! DO SOMETHING!"
If you are reading this, Mr. Salinger, please take it in the manner I intend: loving criticism. You are perhaps the greatest living writer, much more talented than I could ever hope to be. You have a unique talent with words. There's a reason thatFranny And Zooey was on the little bookshelf in the headboard of my bed all through my high school years. But what is commonly believed to be your greatest work just doesn't push my buttons. It's not aged well. In the end, what was innovative in the 1950′s is now old hat; it suffers from the curse of "it's all been done before." It's the novel equivalent of reading an e.e. cummings poem: it was groundbreaking when it came out, but today you just want to smack the guy and show him where the SHIFT key is on the typewriter.
3 Comments