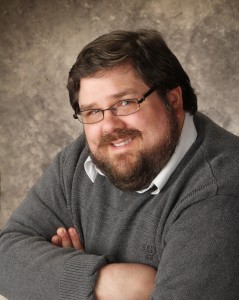 Born in the swamps of Southern New Jersey, Pab Sungenis developed a childhood fascination with cartooning and drew a daily strip for his own amusement for two years before realizing he couldn't draw.
He wound up in broadcasting, worked for numerous stations including WSBU, WOND, WMGM, WSKR, WBNJ, WWBZ, and WKTU.
He describes his drawing ability as like that of "a mentally challenged rhinoceros on a Ny-Quil bender," but thanks to the wonders of photo-manipulation and computer image editing, on February 8, 2006 he found himself creating The New Adventures of Queen Victoria, which is syndicated daily by Universal Uclick.
Pab is the author of the Sidekick series of Young Adult novels, published by Month9Books, and of the novels Go To Hell and A Funny Thing Happened on the Way to Columbine.
He lives in New Jersey with his husband, Bryan Irrera, and far too many cats.